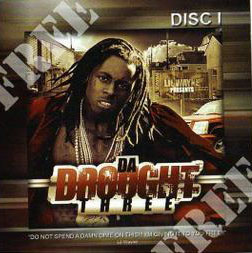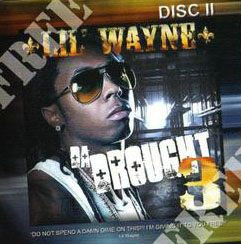 Lil Wayne - Da Drought 3
This is my favorite mixtape out of the 3284832s of mixtapes out there. I think it is the best mixtape of all time. It is 2 discs and all NO DJ. You could call this an album if it wasn't for Weezy giving it away for FREE. His metaphors on this mixtape were simply amazing. I can listen to both disc non-stop all the way through. No what other mixtape/album can you do that with. Not very many.
A couple facts on DD3...
-Da Drought 3 was hailed as the best mixtape of 2007 by MTV News.
-The album was #27 on Rolling Stone's list of the Top 50 Albums of 2007.
-Although some major websites, such as mixtrap.com, have been selling the CD as an official product, Wayne has specifically addressed the fact (even on the Outro of both discs) that he intended for the entire CD to be free of charge.
"I'm strapped like a book bag"
"She treats my dick like bong"
"Eyes real low, they look like I'm from Hong-Kong"

Disc 1:
01. Intro
02. Black Republican feat. Juelz Santana
03. Upgrade
04. Put Some Keys On That
05. Ride 4 My Niggas
06. Dont Stop, Wont Stop
07. We Takin Over(Remix)
08. Get High Rule The World
09. I Can't Feel My Face
10. Dough Is What I Got
11. Seat Down Low
12. New Cash Money
13. Promise
14. Outro
Disc 2:
01. Intro
02. Blooded
03. Live From 405
04. King Kong
05. Dipset
06. Forever
07. Walk It Out
08. Swizzy(Remix)
09. Boom
10. N.O. Nigga
11. Back On My Grizzy
12. Dipset Pt.2
13. President
14. Crazy
15. Outro

Download Here