Lil Wayne Reporting at Super Bowl Red Carpet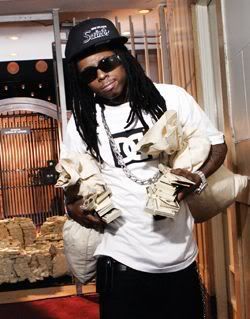 This should be interesting for people to see
Lil Wayne as a reporter and not performing or being fucked up. Wayne on Fifty level lately
with a commercial, espn, and now sitting in as a reporter
ESPN has enlisted the talents of both Lil Wayne and Wyclef Jean for their Big Weekend event during Super Bowl weekend....(read more)
HipHopDx
Bizzy Bone Robbed & Assaulted, Suspect In Custody
BTNH is one of my favorite groups and Bizzy is one of
my favorite emcees. Can't wait till they start touring again. Now that Bizzy is back around
and Flesh is out of jail, it could get crazy for BTNH.
Los Angeles authorities revealed today (January 12) that Bizzy Bone of Bone Thugs-N- Harmony was assaulted and robbed of his jewelry at a local hotel last week. According to The Los Angeles Times, police say that Bizzy Bone was beaten, choked and robbed by several men in his room at the Universal Hilton on January 5th after returning from a restaurant...(read more)
RapGodFathers
DJ Drama Assaulted At 'Notorious' Premiere In Atlanta
AllHipHop.com has confirmed reports of a second altercation between DJ Drama's Aphilliates and members of the CTE family.
According to Aphilliates Music Group president La The Darkman, DJ Drama was assaulted by members of Young Jeezy's entourage last night (January 12), yet walked away from the incident unscathed...(read more)
AllHipHop